What is Malaysia eVisa?
The Malaysia eVisa is a visa that allows you to travel to Malaysia for a short time. You can apply for this online, and it's valid for 30 days, and it can be extended for thirty days more if needed. The eVisa can be used multiple times, so if you want to visit Malaysia multiple times within a year, the eVisa will work just fine!
Anyone from any country in the world who has had their passport stamped at least once before can use an electronic visa issued by the Malaysian Government. This means that even if you've never been outside of your home country, we still have options for legally bringing you into our country!
Documents required for Malaysia eVisa
Malaysia eVisa is an electronic visa for people who wish to visit Malaysia. To be eligible for Malaysia eVisa, you must have a valid passport with blank pages for at least six months from your entry into Malaysia. A document showing proof of sufficient funds during your stay in Malaysia is also required. Here is the list of documents required to apply Malaysia Visa:
Recent passport-sized photo
Passport (Passport must be valid for at least 6 months and have two blank pages)
Travel itinerary
Return flight ticket
Hotel reservation
Requirements for Malaysia eVisa Photo
To visit Malaysia, you will need a visa, and to proceed with the process, you must upload a picture. The following are the photo requirements for the Malaysian eVisa:
The photo must be clear, full-frontal, recent, not older than six months, and taken with a white or off-white background.
You must be facing the camera. You may show both ears if you wish.
Your eyes should be open and visible from the photo. Your mouth cannot be available or closed in any way on your face in the picture, and your lips cannot overlap each other when you smile at all times during your photo.
The photo must be clear, full-frontal, and recent, at most six months. The picture must be taken with a white or off-white background.
The photo needs to be in a colored format and saved in JPEG format.
It is best to take the photo at the same angle you will use for your visa application.
The photo should be of the applicant, taken straight-on and facing the camera with an open mouth. The face should be visible, with no shadows or reflections. The ears must also be visible, but you can use discretion if you wear a hat or other headgear.
You can't wear glasses in your passport photo; if you need them for corrective reasons, your file will be rejected by the immigration official who processes it. Your eyes should be open and your expression neutral (but not smiling).
You should be posing heads straight, facing directly forward with a neutral expression, your mouth closed, and your eyes open.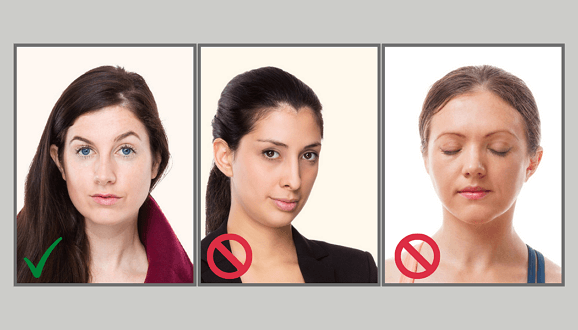 When you are taking your photo, it's essential to keep in mind the following things:
You should be posing heads straight, facing directly forward with a neutral expression, your mouth closed, and your eyes open.
Make sure to smile! The best way for this is to think about something that makes you happy. It can be anything from winning an award to seeing a loved one after being away from them for too long.
Your eyes should be open and visible—not closed or squinting. You should not be making weird or funny faces; smile naturally!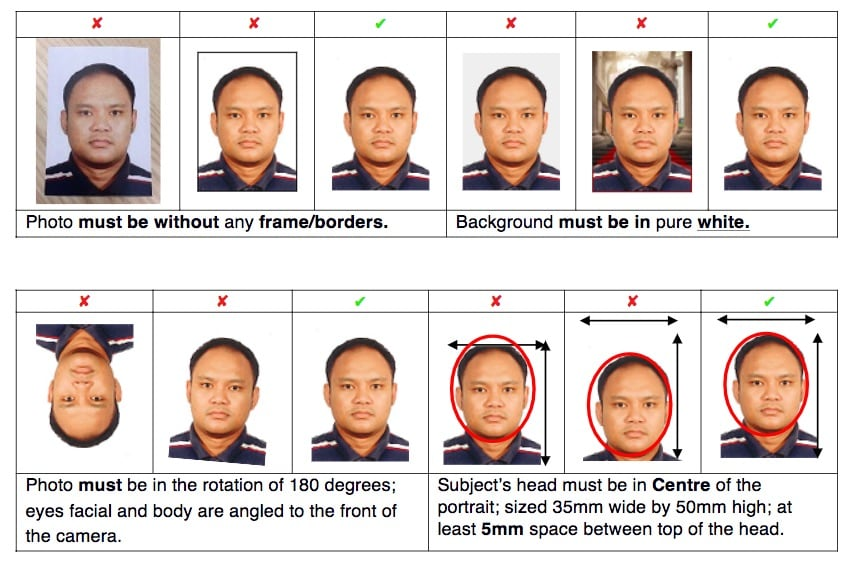 Points to note:
Kindly keep in mind what is on your clothing when taking the photo. Your dress should be of standard colors and style to avoid creating any distractions from your face.
No dark clothing or sunglasses
No hats, scarves, or other accessories
No facial hair
No sunglasses
No props (e.g., animals)
Rules for capturing a Passport Photo:
These are the rules for taking a passport photo:
Photos must be taken in portrait format, not landscape. This is to ensure that the height of your face is accurately captured.
The background should be plain white or even off-white. If you're at home, one way to ensure this is to use a large piece of paper as your background and tape it down on the floor or table so that it can't move during the photo shoot (this will also help with framing).
Full-frontal photos are best because they show both ears and allow for easy identification when checking passports by officials. You should look straight ahead without smiling or squinting—try not to blink, either!
Your mouth should be closed while being photographed (yes, even if you have braces).
Conclusion
Malaysia eVisa is an online visa facility provided by the Malaysia Government for citizens traveling to that country. It is an easy, quick, and convenient way to apply for a visa online and get your passport stamped at the port of entry. The eVisa application process is simple and does not require documents except passport-size photos, which you can take at home or anywhere else. You must upload these pictures on our website as part of your online application process.
Frequently Asked Questions
The Malaysia eVisa is an electronic authorization for traveling purposes that allows you to enter Malaysia for tourism, business, or transit purposes. The eVisa can be obtained online in most cases and does not require you to visit a Malaysian embassy or consulate.
The documents required may vary depending on your purpose of visit. They usually include a passport valid for six months beyond your stay in Malaysia; flight details; hotel reservation confirmation; proof of funds (bank statement). If you're planning on staying more than two weeks, send a letter of invitation invited by someone living in Malaysia (get it signed by their local police station).
The visa is valid for a single entry. If you are a Malaysian citizen, you can use it for multiple entries into Malaysia (up to 6 months).
You are allowed to stay in Malaysia for 30 days with your eVisa. To stay longer, you need to apply for an extension every 30 days. Extensions are valid for 30 days and can be used at any local immigration office or a police station.